Closeness is one of the core values for KWS – more than ever since the Russian war of aggression began in Ukraine. Our full solidarity and support go to the people of Ukraine.
In spring 2022, farmers in many parts of the world were busy preparing for the upcoming agricultural season. This was also the case in Ukraine: There, in the breadbasket of Europe, roughly two-thirds of the 42 million – that is, 28 million – hectares of cropland are cultivated
each year. But then in the early hours of February 24, the country on the Black Sea saw a historic turning point. The Russian invasion marked the beginning of a war whose effects can hardly be calculated to this day – neither for Ukrainians, nor for the Ukrainian agricultural industry, nor for the global supply of food.
KWS has operated in Ukraine since opening its first international location in Vinnitsa in 1900. Today, nearly 170 employees work for KWS at four locations, with 60 of them active throughout the country as sales representatives. They, together with Ukrainian farmers, have stood up to all odds: Despite the tense security situation in many parts of the country and KWS's clear instructions that employee safety remain a top priority, the KWS Ukraine team delivered all seed, so farmers could ensure it was sown in the fertile black soil. In the battle against time, they sowed around 85 percent of the area typically used to cultivate corn, sugarbeet and cereals – in a crucial commitment to the continued supply of food.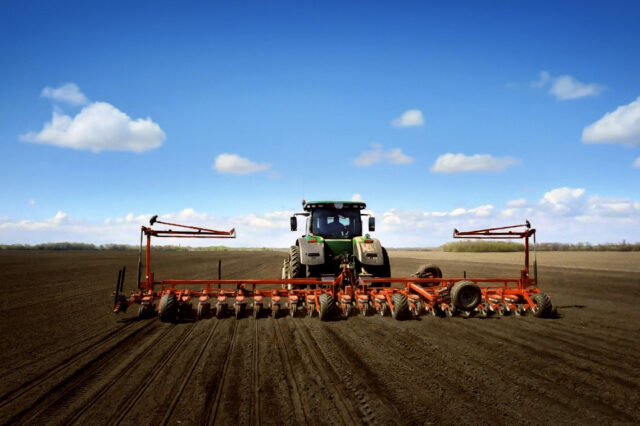 Tetiana Diachenko, a KWS sales representative for corn and sunflowers in Dnipro and Zaporizhzhya, represents the remarkable commitment of the people in Ukraine: "When the war began, I was pregnant. My initial feelings were shock and even paralysis," she recounts. "But after those first devastating moments, I realized there was no one but me who could provide seeds to farmers in my region." She worked with her colleagues to organize trucks to deliver the precious seeds to the area, sometimes under attack. "We feared that farmers would be left without seed. But together we managed to get seed to all my customers at the beginning of April so they could carry out their sowing campaigns," Diachenko recalls with satisfaction. In the middle of April, she then moved to KWS's location in Kamianets-Podilskyi in the west of the country where she welcomed her daughter, Oleksandra, in the middle of May. Today, mother and daughter live in their hometown near the city of Dnipro.
Roman Omelchenko, Chief Agronomist of the agricultural company Agrosoyuz, underscores just how much of an impact the war has had on his company's work processes, but how collab-orating with partners like KWS has helped make the best of the situation: "We were unable to implement our planned cultivation system at the beginning of the year because commodity prices fell and the planned volume of goods could not be sold. Instead, fertilizer prices rose sharply, which meant, among other things, that we couldn't fertilize the corn." As an alternative, he says, crop rotation was expanded, adding: "If we had grown four crops in previous years, we were now going to grow seven to meet our profitability goals." Despite the war and the ongoing difficult situation for agriculture, Omelchenko is positive about the future, stating: "We're farmers, and our business is directly connected to the land and the soil. We have to sow no matter what the situation."