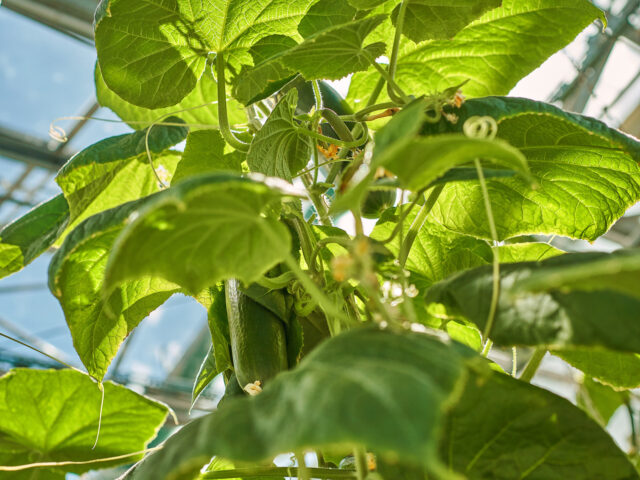 KWS: Growth around the globe
Calgary | Canada
Hybrid rye: Global seed expansion to North America
At the beginning of 2022, KWS Cereals started building a new unit responsible for local activities and introducing the latest KWS seed technology in Canada. Headquartered in Calgary, Alberta, KWS Seeds Canada will place its initial focus primarily on hybrid winter rye and then incorporate other crops over time. The strategy lays the groundwork for increased investment in marketing hybrid rye while gradually transferring the previous license business to a standard direct business. Plans for further market development will particularly concentrate on expanding the cultivation and use of rye as a healthy, efficient and productive feed ingredient.
Sinaloa | Mexico
New KWS facility in Mexico begins R&D activities for vegetable seeds
SKWS Vegetables began its activities in the Mexican vegetable market in 2020. KWS then further expanded the business in 2021 as part of its international growth strategy, acquiring a 10-hectare site in the municipality of Navolato in the Mexican state of Sinaloa located on the country's west coast. The new KWS R&D facility will conduct breeding activities for tomatoes, peppers and hot peppers as well as support screening activities for cucumbers, melons and watermelons.
Petrolina | Brazil
Corn cultivation in up to five generations
Dry heat is a constant feature of the northeastern Brazilian city of Petrolina. That means ideal conditions for KWS's 89-hectare breeding station, which provides its services to all KWS locations worldwide. The station centers its focus on researching corn, sorghum, sunflowers and vegetables as well as developing double haploids and traits. It aims to accelerate development of new hybrids and offer ideally adapted varieties to farmers in Brazil and all around the world.
Tangent | United States
Data helps to ensure high quality
This location on the West Coast in the United States has been continuously modernized and expanded in recent years. From using digital field data to provide more accurate yield estimates to using X-ray programs, data-driven decisions have become the focus of high-quality sugarbeet seed production and processing. Around 2 million kilograms of seed are harvested and processed at the site, which employs over 70 people.
Gran Canaria | Spain
First breeding station for year-round
DH corn lines
At the beginning of 2022, KWS opened the doors to the only breeding station in Europe where it can grow three corn generations a year without having to use high-tech greenhouses. The station, located in Agüimes in south-eastern Gran Canaria, has good soil quality and wells with sufficient water availability. In addition to the production of corn lines, the 9 hectare farm is home to various breeding projects for other crops such as sunflowers and sorghum.
Almería | Spain
KWS expands vegetable seed business in the heart of Europe
Almería, Spain, is home to a 14.5-hectare site where KWS Vegetables has set up a breeding station with demo trial areas and offices for the research and development and sales teams. The parcel of land is located in El Ejido, a key region for vegetable seed breeding and vegetable cultivation areas in Europe. Establishing a KWS breeding station at this strategically relevant location is an important step in setting the course for developing the company's breeding and research programs and further expanding the KWS vegetable business. The location will focus on breeding tomatoes, cucumbers, and peppers – three of the most strategically important vegetable crops for KWS along with melons, watermelons and spinach.
Einbeck | Germany
Sugarbeet seed: New production facilities for more capacity and flexibility
Following an investment totaling €51 million, a new logistics and storage center along with additional facilities for treating, packaging and pelleting have been in operation in Einbeck on 42,000 square meters since 2019. About 200 employees work in production control, the laboratory, seed technology and seed research to ensure the more than 2.3 million units of seed are delivered to farmers across 45 countries.
Eskişehir | Turkey
Corn and sugarbeet for North Africa and the Middle East
KWS TÜRK has been supporting the distribution of seed to Turkey, North Africa and the Middle East since 2003. In 2021, 258,000 units of corn and 254,000 units of sugarbeet seed were packed and sold. At the same time, KWS TÜRK Vegetables started to develop its breeding and selection program for tomatoes, peppers, and cucumbers at its Antalya location.
Kamianets-Podilskyi | Ukraine
Safeguarding seed supply
To ensure the availability of high-quality seed for the Ukrainian and other European markets, KWS had anticipated doubling its seed production capacity and infrastructure in Ukraine with a double-digit million euro investment. After commencing the project in early 2022, the war there interrupted the investment plans. We are fully committed to continuing this project – even under the current circumstances – and have begun activities to ensure processing of our increased 2023 seed harvest.
A global network of breeding stations
Breeding stations play a key role in KWS's product development. They provide services and are a part of plant breeding and research during the development of new varieties. They also provide all required resources, including special machinery, sufficient space for cultivation and personnel to carry out breeding tasks. In the breeding stations, plants are tested under specific climate, soil and daylight conditions before they are selected. Varieties are also adapted to the different regional needs prevailing in the area. This work primarily aims to efficiently and sustainably leverage resources and create synergy within the global station network by collaborating across crops.
KWS currently has about 45 breeding stations around the world that manage around 70 breeding locations. Of the more than 1,800 people who work at KWS in research and development, around three-quarters of them work at the stations. That number roughly doubles when KWS turns to seasonal workers for additional help. Two people usually work at the smallest breeding station and 225 at the largest.