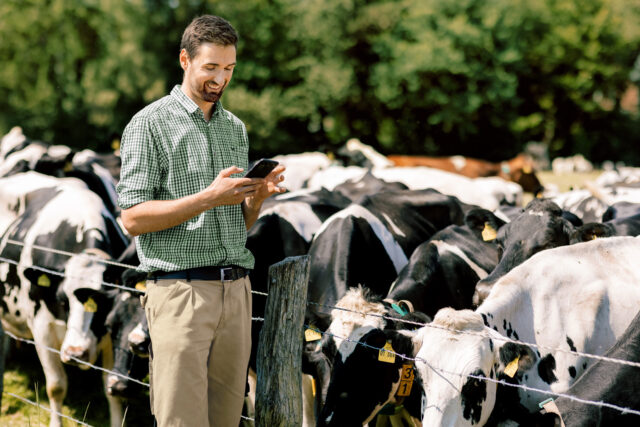 Digitalization in agriculture
Expert digital support each and every day: Monitoring a whole crop year with myKWS.
Row after row, the forage harvester has been chopping through Marcus Görlich's cornfield, and, like most farmers, the 30-year-old relishes the harvest as a highlight of the season. Here on about 40 hectares in Borgholzhausen in Germany's eastern Westphalia, the major component of the year-round feed for 180 dairy cows is being swiftly harvested. Görlich, who holds a degree in agricultural science, has been using SAT DM Monitoring since 2018 to determine the optimal harvest time for his various corn fields. Drawing on satellite images to detect the dry matter content of cornfields, the myKWS app helps him keep a constant eye on the progress of the silage corn's maturity in his fields. "Before satellite dry matter monitoring, we always had to determine the harvest time by visually assessing our cornfields," Görlich explains. "An exact analysis is arduous and provides little information about the distribution of dry matter in the field." Monitoring has helped make this much easier, he says, adding: "The tool analyzes dry matter for specific zones, which enables us to ideally establish which days and in what order we should chop the fields. This ensures the yields and, above all, the quality of a very good corn silage for feeding."
The time in-between harvesting and sowing
Just under four years ago, the SAT DM Monitoring tool served as an initial spark for Görlich to take a look at other useful tools and services provided through the myKWS digital platform. Now he's not only active as a farmer, he also directly incorporates his experience into the myKWS digital services as a KWS digital farming solutions expert. "Besides SAT DM Monitoring, I use other myKWS services that help me in making relevant farming decisions throughout the year."

And while the forager and tractor-drawn trailers continue to harvest the silage corn, Görlich has already begun planning for the next growing season. He is responsible for the cropland on his parents' farm, while his father manages milk production. Besides corn, the farm also grows cereals on 60 hectares: "Straw from rye, barley and wheat are needed for fodder and bedding in some of the cowsheds." Whether it's the corn crop or a cereals crop, Görlich turns to myKWS digital variety adviser to obtain detailed information about potential varieties, including suitability for cultivation and performance and cultivation recommendations. Should he decide to use a KWS corn variety on his farm, he can access the Corn Seed Service offered to registered myKWS users: "This provides us a safeguard: In the event of damage, we'd receive reimbursement for 50 percent of the seed volume to resow with a KWS corn variety." A strong incentive that KWS also offers in similar form for its beet and oilseed rape varieties.
Moving into the digital future of agriculture
But what is the use of accurately calculating the seed volume and buying the most promising seed if its full potential isn't unleashed at sowing time in the spring? "Of course it makes sense and correlates with our empirical values that we don't have absolutely homogeneous fields," Görlich points out. "Parameters like soil structure and water holding capacity vary within a field's zones. When choosing the ideal planting density, it's difficult to address all conditions." To adapt both sowing to the location and sowing at the best time, Görlich keeps an eye out for the proper continuous soil temperature of at least 8 degrees Celsius using myKWS services, which are available free of charge. Besides checking the soil temperature, he also uses the Variable Rate Seeding tool. The first step involves displaying the different yield capabilities of a field's zones with the help of satellite images spanning several years. The service then recommends a specific seed rate for all zones of the field for the KWS corn variety to be sown.
The tool evaluates dry matter for specific zones. This enables us to ideally establish which days and in what order we should chop the fields.
"With the Variable Rate Seeding tool I can check my assessment and experience against the results of the tool analysis. I can also directly create an application map for seeding," Görlich says. "The seed rate recommendation for KWS corn varieties for each zone is very helpful, and we seed more plants in areas that can accommodate more plants." After finishing the application maps, Görlich saves them on a USB stick that he gives to his contractor. The contractor then has the on-board computer of the seed drill or tractor to read out the data. A suitable machine uses the seed map to execute variable, site-specific sowing.
The rain radar is a plus that's especially helpful during harvest as it shows the current movement of rain clouds over the fields.
Rain radar assists decision-making
During the growing season, Görlich monitors his crops through a vitality check that he receives each week after marking his fields using myKWS: "Larger fields present a challenge as it's difficult to keep track of the entire crop all the time," he explains. "The vitality check shows me areas in the field that are exhibiting less growth or are stressed due to various factors." Görlich says he can then more systematically target these "problem areas" and carry out appropriate countermeasures. The farm also uses the myKWS weather service all year-round: "Besides values important to agriculture like soil temperature, the app also provides me with an intuitive, streamlined display of the key parameters of temperature, wind and precipitation so I'm able to quickly recognize the values most crucial to me," Görlich states. He finds the rainfall radar, which he especially consults each day during harvest time, particularly compelling. "I can then see exactly where the current rain clouds are moving over the fields that I've marked in myKWS," he explains. That's a plus I can really use, especially with my fields so widely scattered throughout the region."
Digital solutions that will provide sustainable success.
mymyKWS is an online platform that provides a variety of helpful desktop and app tools and services that assist data-driven decision-making processes. Digital support is provided for the cultivation of corn, oilseed rape, sugarbeet, cereals and other crops offered by KWS. myKWS services are a key component of KWS's target to
Up to one-quarter of this target yield is to be achieved by providing farmers with digital solutions for more than 6 million hectares by 2030.