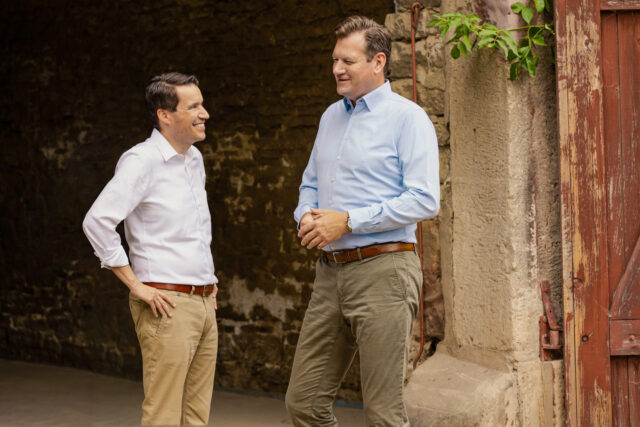 Sowing the future: For generations of farmers.
'We can make a strong contribution to a more ecological approach to farming.'
First we faced the pandemic and then the war in Ukraine. All the while, climate change continued to worsen around us: Current developments are affecting the world's food system, which is coming under increasing pressure caused by climbing food prices and food shortages. This is intensifying the focus on the agricultural sector. In the following interview, Hagen Duenbostel, Spokesperson of the KWS Executive Board, and his successor, Felix Büchting, discuss how KWS is preparing for the future of farming and how the company plans to use a farsighted strategy to support the farmers of today and tomorrow.
The United Nations has estimated the world's population will reach about 10 billion by 2050. To meet the nutrition needs of so many people, global food production will have to rise sharply, even without any further crises occurring. Farmers – particularly those of future generations – will face huge challenges that must be tackled amid changing times. How will KWS support these farmers?
Duenbostel: The farmers of today and tomorrow will not be left alone as they tackle these challenges. We're well aware of the huge responsibility we have to safeguard people's source of nutrition. This is a job we'll only be able to carry out by working with everyone in the value chain. We view ourselves as a partner to farmers and intend to do our part to ensure agriculture and future generations of farmers have a solid basis to stand on in the years to come, even as the parameters change. Our innovative technologies, digital services and targeted plant breeding are already providing answers to today's problems. A crisis-proof and resilient agriculture and food industry that provides long-range protection to people, animals and the environment is not just a vision of the future. It's actually a reality that's already being brought to life today.
How important is seed in this value chain?
Büchting: Every seed corn that's planted is high tech in its most delicate form. Many years transpire before a variety has been bred, developed into a marketable product and sold. We view the moment in which farmers sow this seed in their fields as one of absolute trust. Farmers can't reverse their decision once the seed is in the ground. Our product is a value-generating production factor that helps determine a farm's yields and commercial success. We can't stand still if we intend to live up to this expression of trust: At €286 million, we invested a significant portion of our net sales in research and development during this past fiscal year. Our business activities will extend well beyond seed production in the future. We strive to take a more holistic approach to focusing on farmers and their agricultural operations by providing them with a carefully coordinated package that consists of seeds, services and advising assistance.
As a seed provider, we've been a trusted partner for generations of farmers. It's their soil, their decision. It's our varieties, our service.
Agriculture occupies an uncomfortable position in society – people are viewing it more critically, acceptance of conventionally grown food is declining, political decisions have led to tougher regulations, and economic conditions for farmers are becoming more unattractive. How important is it to convince young people that farming has a future?
Duenbostel: Right now, we're in the middle of a transformation that will last for decades. Farming is a true future-oriented technology industry and it's filled with all sorts of occupations for young people. The desire and enthusiasm to actively engage in farming are there; farmers themselves have told us so during our conversations with them. They're on the cutting edge in their practices and make an important contribution to sustainable, future-focused farming. But we can't rest on our laurels – one out of 10 farmers in the EU is under 40. Most farms are run by people who are 55 or older. The numbers are similar in other parts of the world. We need the can-do people of tomorrow in all stages of the value chain, people who are capable of adapting to changing social, climate and political conditions. For this to happen, messages and regulations must be defined in a timely, binding manner.
Büchting: No matter if we're talking about farmers, breeders or mechanical engineers: We're fully confident the young people of the next generation will carry out the transformation of agriculture in all of its complexity. The result is a highly demanding job profile. We'll have to remain open to new technologies and develop a joint understanding of sustainable farm management. To do this, we need young, well-educated people who consider farming to also offer attractive financial prospects so they are encouraged enough to become farm-ers along with their families.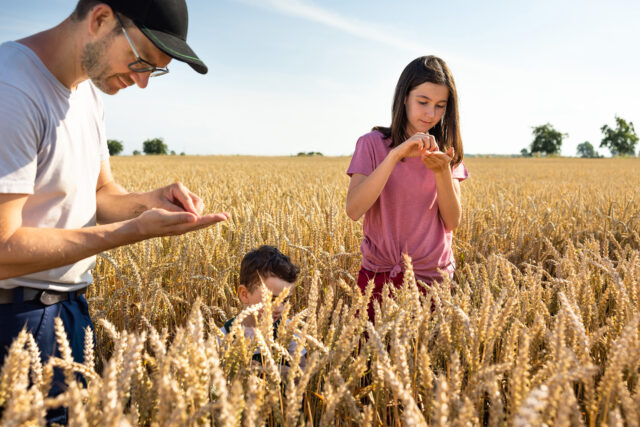 The transformation to a diversified, sustainable form of agriculture is unavoidable. Is KWS prepared for it?

Duenbostel: We're not just simply prepared for it. This commitment has been part of our DNA from the very beginning and is being brought to life by KWS. It's largely the foundation of our business model and our core expertise. KWS stands for diversity that we create through an increasingly complex crop rotation: This is the core element of sustainable farming. We think in terms of farm lifetime values, from the perspective of the farmer. We're not focused on the short-term gains. We're much more interested in how we can jointly and sensibly use and optimize our resources for the purpose of maintaining a farm's productivity and the quality of its soil long-term. By taking this approach, we can achieve yield stability and yield progress for generations.
We need the can-do people of the future in all stages of the value chain.
Büchting This long-term approach also has a sustainable advantage. Farming is one of the largest producers of greenhouse gases with global CO₂ emissions of 3.2 billion tons.* About 1 billion hectares of cropland are farmed around the world. We roughly estimate that KWS seeds are used on around 1% of cultivat-ed land around the world. If you assume that our breeding work facilitates annual breeding progress of about 1%, this represents a global reduction of cultivated land that totals about 100,000 hectares. Applying this figure to the greenhouse gas emissions of cropland, we can assume the yield progress made by KWS seeds will enable the reduction of CO₂ emissions by about 320,000 tons annually.
We've talked a lot about the future of farming and future generations. But KWS is laying the foundation for the future on its management level as well …

Duenbostel: In terms of personnel, we're focusing systematically and with foresight on the tasks that await us. Continuity, family tradition and expertise are the focus of the Executive and Supervisory Board line-ups. As part of a planned generational change, Andreas Büchting will leave his position as Chairperson of the KWS Supervisory Board at the 2022 Annual Shareholders' Meeting at the end of the year. As a member of the family that founded the company, he shaped KWS while serving more than 30 years as the Spokesperson of the KWS Executive Board and an additional 15 years as Chairperson of the Supervisory Board. The intention is for me to replace him in this position on January 1, 2025. Felix Büchting will replace me as Executive Board Spokesperson.
Mr. Büchting, what are your thoughts as you prepare for this new role, and what goals have you set?
Büchting: KWS is very well positioned. I really believe we can achieve a great deal by working together. With our products and our innovations, we're the first link in the agricultural value chain and can make a strong contribution to a more ecological approach to farming. To do this, we must continue to identify developments at an early stage and focus our breeding accordingly as we think and act with the long-term in mind. Agriculture is a sector of the future, and we're glad to be a part of it.
Generational change at KWS.
Andreas J. Büchting, Chairperson of the Supervisory Board of KWS SAAT SE & Co. KGaA, will leave his position as scheduled at the end of his term in office in December 2022.
Hagen Duenbostel, the current Executive Board Spokesperson, will be recommended to the Annual Shareholders' Meeting as his successor beginning in 2025. He will begin the customary two-year cooling-off period at the end of 2022.
Philip von dem Bussche, a former Spokesperson of the Executive Board, will assume the office of Chairperson of the Supervisory Board on an interim basis through the end of 2024.
Felix Büchting will succeed Hagen Duenbostel as the Executive Board Spokesperson.

Weitere Links: