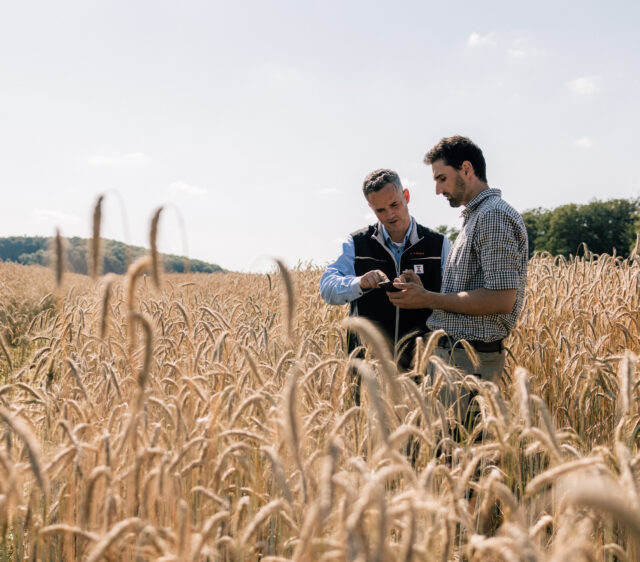 Digitalization in agriculture
KWS professional advice meets smart-farming technology: Digital crop-production expertise.
On his screen, Tobias Wollbrandt sees a classification map with areas of a field marked green and red. They indicate the different yield capacities of the soil at this location and, for example, provide information about which areas always offer adequate water and good growth conditions – as well as the areas where the yield potential is not so good. The farmer from Waddeweitz in the German state of Lower Saxony wants to know more about the benefits of site-specific planting so he can use the digital myKWS consulting platform tool for his fields as well. A discussion with KWS consultant Benjamin Simon will help him: The consultation is digital.
"I really appreciate meeting personally with our farmers. But if that's not possible, we can respond flexibly," says Simon. KWS continuously works on new solutions to offer farmers the best possible advice – digital contact, which gives farmers like Tobias Wollbrand a convenient way to talk with KWS consultants from their own home computer, is part of this.
Whether digitally or on-site: We help farmers to make the right decision at the right time. That not only boosts yields, it also makes agricultural work significantly more sustainable.
Developing innovative tools and services is an essential cornerstone of the comprehensive consultation strategy at KWS. The myKWS online platform is a global service for farmers, offering expert advice and nearly 30 tools for data-based decision-making processes. These tools follow the life cycle of corn, oilseed rape, sugarbeet, cereals and a number of other crops distributed by KWS. Satellites, for example, are used to monitor the fields from space and, among other tasks, determine the best times to harvest.
"With myKWS, we help farmers make the right decisions at the right time" emphasizes Simon. "This will not only increase yields, but also make farming much more sustainable." Farmers in 30 countries now use the platform to flexibly obtain comprehensive advice – from choosing the most suitable sowing rate for specific fields to checking the vitality of the crops and forecasting the ideal time for harvesting.
Satellite images
support farmers with data for making decisions that have yield relevance
Digital communication
offers new ways to share information, immediately and individually
QR codes
protect customers against forgeries and provide direct access to important information about varieties
Connected data
enables, for instance, agronomic and economic crop rotation optimization
Image recognition
helps farmers identify diseases and pests in the field
myKWS
provides access to all important applications and sends immediate information about relevant events
High-precision farming thanks to satellite images
With a unique system called SAT TS-Monitoring (Satellite Dry-Matter Monitoring), KWS identifies the dry-matter content of silage corn using satellite images. With the app, farmers can check the maturity of their KWS corn varieties on their smartphone while working in their fields and choose the optimum harvest time.