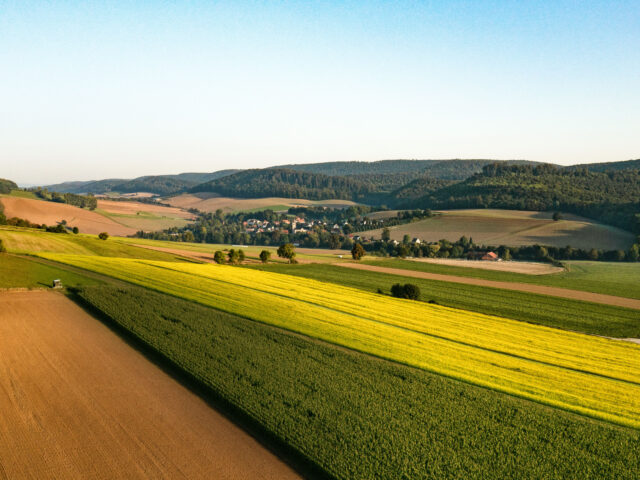 We offer our farmers varieties and solutions tailored to their needs. With the wide range of products in our portfolio, we enable diversified crop rotation.
Corn
Segment
... accounts for the largest share of net sales at KWS; sunflower and soybean seed are also part of this segment. Adjusted for currency effects, the segment grew by 8 percent.
Net sales developed contrary to negative currency effects, with new, high-performance hybrid varieties in Brazil contributing to this.
The segment improved its competitive situation in Europe thanks to new hybrid varieties for grain corn.
The segment's income rose by 6 percent. The EBIT margin also increased slightly.
Cereals
Segment
... comprises seed for rye, wheat, barley and oilseed rape. In addition, the segment focuses on the breeding and sale of other future-oriented crops such as sorghum, peas, catch crops and oats.
At €191.2 million, net sales reached the previous year's level. While business with barley seed and rye seed declined somewhat, sales of oilseed rape and wheat seed positively contributed to the segment's income.
The segment's income dropped slightly, primarily due to higher research and development expenses.
Another key to developing a more sustainable agricultural industry also lies in effectively combining elements from both organic and conventional farming. For more than 15 years, KWS has been actively breeding suitable varieties and producing seed for organic farming.
Vegetables
Segment

... mainly comprises seed for spinach, tomatoes, cucumbers, peppers, melons, watermelons, beans and carrots.
After a record year in 2020, the segment posted a significant drop in net sales due to strained demand for spinach seed as a result of the COVID 19 pandemic and negative currency effects.
Sales of bean seed, in contrast, climbed by about 13 percent.
KWS is systematically pursuing expansion of its vegetable seed business by having acquired an Italian tomato breeding company in the year under review.
... has a share of over 60 percent of the world market, and our sugarbeet varieties consistently rank among the best
performers in the industry.
Thanks to its continued innovative strength, the segment achieved a 7 percent increase in net sales compared with the previous year – with a good forecast.
Demand for CONVISO® SMART, an innovative weed-control system, has continued, and the respective varieties are now available in 25 countries.
In addition, recently introduced varieties based on a new Cercospora tolerance (CR+) generated initial sales.
The segment is also pressing forward with its long-term project for breeding diploid hybrid potatoes.
The difference from the KWS Group's statement of comprehensive income and segment reporting is due to the requirements of the International Financial Reporting Standards (IFRS). Further information is available in our annual report.
KWS's continuously evolving product portfolio covers a wide range of cultivated plant varieties
across segments, in the process adapting to the changing needs of agriculture: